Kyler Murray's Fantasy Football Ceiling Is Worth Paying Up For
By taking Kyler Murray first overall in the NFL draft and pairing him with offensive guru Kliff Kingsbury, the Arizona Cardinals guaranteed that their offense was going to look a whole lot different in 2019.
After the way their offense performed a season ago, I'm sure that was their goal.
From a fantasy football perspective, what can we expect from Murray's first professional campaign? Can it be the greatest ever fantasy season for a rookie passer?
Murray Was the GOAT in College
To say Murray was good in college would be an understatement. He was unreal from a statistical perspective and fully deserving of going first overall.
In 2018, Murray put together the greatest single season in college football history. His 13.0 adjusted yards per attempt (AY/A) is the most ever recorded by a passer. Those with a top-end college passing season have gone on to find success -- at varying levels -- in the NFL at a pretty good rate. These were the top-10 single seasons by AY/A prior to Murray's 2018, with Murray's numbers included at the top (from Sports Reference).
| Rank | Quarterback | AY/A | Year | School |
| --- | --- | --- | --- | --- |
| 1 | Kyler Murray | 13.0 | 2018 | Oklahoma |
| 2 | Baker Mayfield | 12.9 | 2017 | Oklahoma |
| 3 | Baker Mayfield | 12.3 | 2016 | Oklahoma |
| 4 | Robert Griffin III | 11.8 | 2011 | Baylor |
| 5 | Russell Wilson | 11.8 | 2011 | Wisconsin |
| 6 | Bryce Petty | 11.7 | 2013 | Baylor |
| 7 | Michael Vick | 11.5 | 1999 | Virginia Tech |
| 8 | Mike White | 11.5 | 2016 | Western Kentucky |
| 9 | Marcus Mariota | 11.5 | 2014 | Oregon |
| 10 | Jameis Winston | 11.5 | 2013 | Florida State |
| 11 | Cam Newton | 11.2 | 2010 | Auburn |
Note: Tua Tagovailoa was excluded because he has yet to graduate, but you can be sure he will be in an article with similarities to this one come next year.
Out of the guys with top-10 seasons, six have produced top-12 fantasy campaigns at the quarterback position on a points-per-game basis. Of the Power-5 passers, only Bryce Petty has failed to register at least a QB2 (top-24) season.
This points towards Murray having a reasonable floor in his rookie year as well as an elite ceiling. As far as college goes, Murray comes out as one of the best to ever do it. That has historically meant a lot in the NFL.
Rushing Ability
A common thread among top NFL rookie fantasy passers is their rushing ability. Producing fantasy points in your first year is tough but getting some free points on the ground can ease that burden.
The top-six fantasy seasons for a rookie passer have all included at least 50 rushing attempts, and they also each have at least four scores on the ground. Among them, Jameis Winston has the lowest rushing total (213 yards), but he found paydirt six times on the ground. Players known for their passing prowess, like Andrew Luck, have been assisted by rushing points, too.
Murray should thrive with his legs. In his final year in college, he rushed for more than 1,000 yards and found the end zone on the ground 12 times.
Murray is a generational passer and a prolific rusher. It's the perfect combination for fantasy as he has a number of ways to rack up points, and his rushing ability should elevate his weekly floor.
Offensive Regression (The Good Kind)
The Cardinals' quarterback -- no matter who it was -- was destined for at least a little rebound this year because it was going to be hard for the Cards' offense to be so terrible two years in a row.
In 2018, Arizona's passing offense ranked dead last by our schedule-adjusted metrics. Arizona actually lost -0.19 expected points, per our model, when they attempted to pass the football. That's astoundingly bad. No team since 2010 has done a worse job of advancing the ball through the air, according to our metrics.
On the flip side of this, the sequels to historic blunders are never as tragic as the originals. Even bad teams tend to bounce back after league-bottom seasons. Producing horrific numbers requires some awful luck along with the poor play, and those bad beats seldom repeat at quite the same level. Since 2002, the last-ranked team in Passing Net Expected Points (NEP) per play has seen an increase of 0.13 Passing NEP per play in the following season.
In short, Arizona, even if their offense kept mostly the same personnel, was likely to see some positive regression this fall. And now they will get the infusion of Murray -- along with some new wideouts -- on top of the expected positive regression, giving them the potential to make a massive year-to-year leap.
The NFL's First Air Raid
Arizona inked Kliff Kingsbury as their head coach this spring, a move that left the average football fan scratching their head. Kingsbury was canned at Texas Tech and led more losing seasons for the program than winning ones.
Ask any football nerd, though, and you'll hear a different story. If this hire goes well, we will likely remember it as the powder-keg that set off a big chance in the NFL as Kingsbury's offense could reshape the modern NFL offense.
Kingsbury coached at Texas Tech from 2013 to 2018. Over that span, his teams averaged 37.8 points per game and fell outside of the top-25 in Division-I scoring just once. He had two teams score more than 40 points per game in that six-year span.
Scoring is generally high in the Big 12 and defenses struggle. Kingsbury's teams fell into that mold, but they were different. The Red Raiders focused on passing more than almost any other team.
During his tenure as head coach, the Red Raiders, on average, threw on 60.1% of their plays. They ranked in the top-five in pass-to-run ratio in every season but one. In the season that accounts for the lone exception, Texas Tech was ninth.
Even if Kingsbury eases into his pass-heavy ideologies in his NFL tenure, the Cardinals could still lead the NFL in pass attempts during his first year. Not only does this mean more passing volume for Murray, which is obviously a great thing for Murray's fantasy stock, it also means a more efficient offense as passing is significantly more efficient than rushing.
The Weapons
Despite Arizona having very few established weapons on offense, the Cards are teeming with potential.
Starting off in the backfield, Arizona has someone truly special in David Johnson. It wasn't too long ago that Johnson looked like the next best bet to hit the 1,000-yard mark in both receiving and rushing in a single season. Per AirYards.com, no back has recorded more Air Yards in a season than Johnson's 558 in 2016.
Since then, Johnson has missed basically an entire season in 2017 (suffered a season-ending injury in the first game) and went down with the sinking ship in 2018, seeing 44 fewer targets than he did in his breakout 2016 effort. With a forward-thinking offensive coaching staff in town, Johnson is a safe bet to be heavily involved this year.
At receiver, despite the legacy of Larry Fitzgerald, it's the youth on this team that should get fantasy players excited. According to PlayerProfiler, both Christian Kirk and Andy Isabella have Breakout Ages and College Dominators in the 70th-percentile or above. The age at which a receiver began to produce significantly and the amount of their team's production they accounted for are the two largest predictors of NFL success. Kirk and Isabella check the boxes there.
On top of having two darlings of the metric community, Arizona also snagged Hakeem Butler in the fourth round of this spring's draft. Butler may not have an enticing breakout age (30th-percentile), but he did crush his final season at Iowa State. He accounted for 43.5% of his team's combined receiving yards and touchdowns, and he did so while averaging 22.0 yards per catch.
Arizona has every size and style of receiver a team could want for Murray, and with a coaching staff that won't be afraid to buck traditional NFL styles, the Cards are clearly getting ready to let him loose.
What Could Go Wrong?
The biggest problem with Murray probably won't be his performance; it will be his price. Murray's average draft position, per Fantasy Football Calculator, is soaring like Bitcoin in the summer of 2017 as he's risen to QB10 and is up roughly a full round over the past 30 days.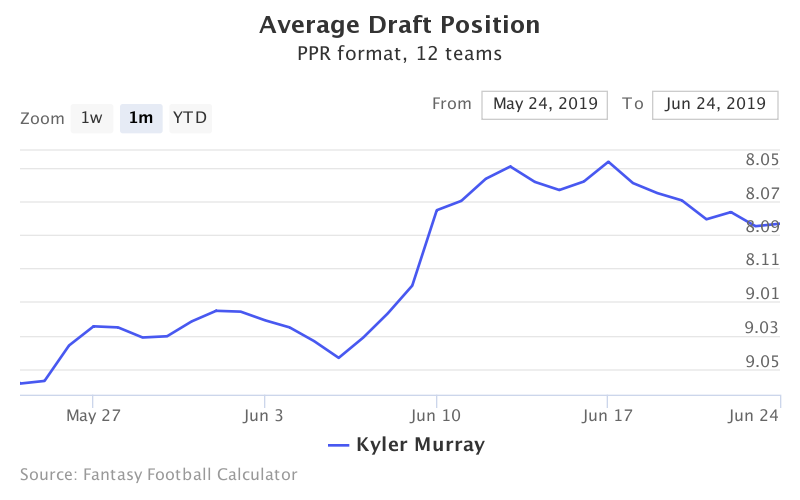 It has -- finally -- tapered off a bit this past week, but Murray is starting to pass up proven passers with similarly elite upside. Cam Newton is the QB11, one spot behind Murray, and has finished as a top-four fantasy quarterback five times in his eight-year career. Russell Wilson is just one place ahead of Murray, at QB10, and Wilson is a similar type of quarterback and has done it at a high level for several years.
The other potential issue with Murray is his offensive line. Last season, Arizona passers were sacked 52 times, fifth-most in the NFL.
This may be less of a problem in 2019, though. A year ago, the Cardinals lost seven linemen to injuries that lasted multiple games, no doubt diminishing their ability to protect their quarterbacks. Injury luck that bad is unlikely to repeat itself in 2019.
More importantly, Kingsbury's offense at Texas Tech excelled at protecting its passers. Despite running one of the fastest offenses in the NCAA, the Red Raiders were in the top-half in sacks allowed per game only once under Kingsbury.
Is It Possible to Be Too High on Kyler?
Admittedly, choosing Murray over guys like Newton and Wilson -- stars with established track records of fantasy success -- is difficult to do.
But if you're taking a quarterback late, which you should be, what you want to target is upside. Since it's feasible to stream the position, taking a "safe" guy at quarterback in the back half of your draft isn't the way to go. Either take one super late and plan to stream all year or shoot for the moon with a high-upside pick in the mid-to-late rounds. Murray is coming off the board in the eighth round on average, and if it doesn't work out, cut bait and stream.
Murray is the perfect high-upside lottery ticket at quarterback.
Arizona is filled with unknown variables right now, but all of them suggest that this offense could change the way the NFL operates. Kingsbury is going to deploy a style of offense that the NFL has yet to see -- at least on a full-time basis (teams do run Air Raid concepts at times) -- and he's pairing his attack with a truly great quarterback prospect. Sprinkle in Murray's rushing ability, and the sky's the limit for Kyler in Year 1.